THE WATERPARK
We've reopened our doors on May 29th!
The safety of our customers and staff will be our key priority, so the way we are operating our Waterpark this year is a little different.
You can be assured we will be adhering to all government safety advice, and have been working hard to put in place new systems which mean you will be able to visit safely.  All of our staff have been trained according to Covid-19 guidelines and we have incorporated regular intensive cleaning sessions into our timetable.
Please note due to high demand, we advise that all bookings are made in advance of your visit.
When visiting the Waterpark you will need to wear a face covering in reception areas, changing rooms, toilets and circulation areas. You won't need to wear one whilst swimming and riding the slides or whilst seated in any of our cafe areas.
We will, of course, continue to enforce social distancing measures and extensive cleaning throughout all of our facilities.
Thank you for playing your part in keeping everyone safe.
No refunds will be made for missed sessions.  Where there is a legitimate reason for not attending a session, a credit will be made to be used at one of our Denbighshire Leisure Ltd facilities.
We will be running both 2.5 hour and 1 hour sessions, as well as Parent and Toddler Play and monthly Accessible Friendly sessions designed  for visitors with additional needs and their families.  
Please come swim ready. lockers are available.
Showers are not currently available, this is to assist with social distancing.
We ask that customers do not bring valuables with them or leave personal possessions in the cubicles.
You can enter the Waterpark via the main entrance for SC2. When you arrive a member of staff will meet and check you in.
For your comfort and safety, hand sanitisers will be available at the entrance and positioned around the Waterpark.
When your session has finished you will be asked to leave the pool and when you have finished in the changing room we will ask you to leave via  a side door.
Please use contactless payment where possible.  When you place an order for food, a member of staff will give you a pager and explain where to collect your food.  Discounts are available for Waterpark customers who purchase food in advance when making a booking.
Toilets are available to customers and we ask that people respect social distancing when using these facilities.
Please play your part in keeping us all safe by following our social distancing signage and any safety messages given by our staff.  Signage will be in place to remind customers when queuing for slides and other features.
Please remember if you have any symptoms of COVID-19 please do not book a visit to the Waterpark
At SC2 we have something for every visitor, whether you're a thrill seeker, a paddler or just want to put your feet up and relax. The main waterpark area is suitable for all ages and abilities and children will be able to explore and enjoy water at their own pace with a maximum depth of 90cm.
The water confidence area graduates from 0cm to 30cm and is perfect for parents and toddlers to enjoy a paddle and a splash about. In this colourful environment, younger children will be able to develop their confidence before moving on to the bigger splash features.
The Anaconda is the fastest flume in the park, this is a high speed wave ride which zooms through complete darkness and out of a snake's gaping jaws. Just watch out for those fangs! Ideal for daredevils and for thrill seekers, you'll want to go again and again. Please note: This slide is in complete darkness. (Height restriction of 1.2m applies).
The battle to reach the bottom starts here and it's definitely quicker to go down than up! Race your friends and family on the Speedster.  (Height restriction of 1.2m applies).
Grab a rubber ring and speed down the Boomerang on your own or in pairs!  Shoot down on an inflatable tube and let gravity gently sway you back and forth until coming to rest in the centre of the slide. (Height restriction of 1.2m applies)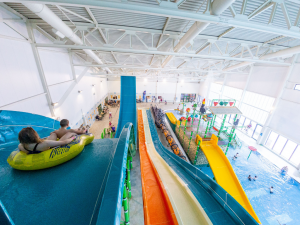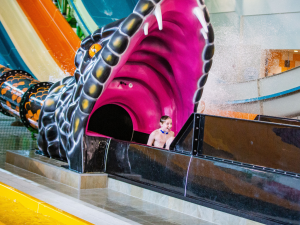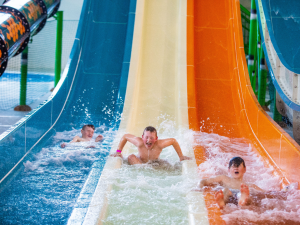 Splash into the Piranha Play
Our younger visitors will love the Water Wheel.  Little hands will quickly work out how turning the wheels makes the spokes spin and fills up the water buckets.  But watch out when those buckets start to tip and the fish starts to spray, that's when the fun really starts!  As water fills the channels below there's plenty of opportunity to dip in and splash your friends or even better, let them splash you!
The lower levels of our fantastic Piranha Play area are great for younger visitors with lots of interactive water features to explore.  Two toddler slides lead off into the water confidence area, which with its beach entry, allows non-swimmers to enjoy themselves without fear of getting out of their depth. For older, more adventurous visitors, higher levels of Piranha Play provide all the fun you need.  Children can explore the structure and have endless fun soaking themselves and their friends with water cannons, tipping troughs and jets.  At the same time, from above, shark showers, waterwheels and tipping buckets will be spraying and splashing them as they make their way towards to the slides.